Use this thread to display and give your own thoughts on both fictional and factual books regarding wolves. If you find that someone has already reviewed a book that you've read, by all means, write your own version. Differing opinions are good.
Of Wolves and Men
by Barry Lopez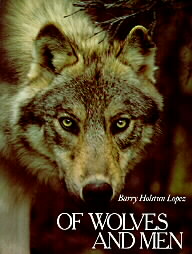 The pride of the zoology section of my bookshelf, this book, with the exception of being slightly America-centric is practically perfect for those wanting to know actual facts on wolves and their turbulent history with mankind.
The author displays information on the biology and behaviour of wolves in detailed yet simplified ways which can be comprehended by the average reader. His knowledge on the involvement of wolves in Native American culture and their persecution by settlers is even greater, sporting numerous interviews with natives, ranchers and hunters, each giving their own unique views.
The best part of the book is that for the most part, it is very neutral and devoid of anthropomorphization. Though the author acknowledges that the wolf's ferocious reputation was largely exhaggerrated and its extermination an abhorrent act, he does not make the mistake of most other authors by claiming that wolves are totally harmless and that their coexistance with the Native Americans was completely peaceful and idyllic. Though his love of wolves is always apparent (he once adopted two red wolves) the author even goes as far as expressing some sympathy for the wolf bounty hunters who lost their livelihood when the animals became officially protected.
Easily readable, full of facts and neutral, no wolf book collection is complete without it.